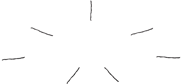 About
This year, Design Podge sits down to its annual lunch with a bigger picture in clear view. In the 365 days since our last get together, not one day has passed without armed conflict somewhere in the world. One man sought to change this. In 1999, Jeremy Gilley founded the charity Peace One Day to encourage those involved in conflict to lay down their arms on 21st September every year. On this day in 2012, his ambition is to see the largest global reduction of violence ever recorded on one day.

2012 is also the D&AD's 50th anniversary and the new White Pencil Award has been launched to mark the occasion. The aim of this new award is to encourage the creative industry to generate ideas that make the world a better place, so it is fitting that Peace One Day is at the heart of the very first White Pencil brief. And Podge will play its role this year too, by doing what we do best – gathering creative leaders and gurus together to eat, drink and put the world to rights in a convivial (and we hope peaceful) atmosphere. Given that Peace One Day is a global initiative, Podge is going global too, and this year we're also hosting breakfast at Podge New York at the National Arts Club, and dinner at Podge Hong Kong at the Kee Club. Same time, same day, same aims.

Fellow Podgers; we give you The Peacemeal.